Breve análisis del Ultrabook Asus VivoBook S301LA-C1073H
Asus VivoBook S301LA-C1073H


HD Graphics 4400, 4200U, Hitachi Travelstar Z5K500 HTS545050A7E680

Lenovo IdeaPad U330p


HD Graphics 4400, 4200U, Seagate ST500LM000 Solid State Hybrid Drive

Asus VivoBook S300CA


HD Graphics 4000, 3217U, Hitachi Travelstar Z5K500 HTS545050A7E380

Samsung ATIV Book 9 Lite 905S3G-K01DE


Radeon HD 8250, A6-1450, Samsung SSD PM841 MZMTD128HAFV mSATA

Screen

-55%

-3%

1%

Brightness middle

191

Brightness

178

Brightness Distribution

84

Black Level *

0.27

Contrast

707

Colorchecker DeltaE2000 *

10.59

Greyscale DeltaE2000 *

11.58

Gamma

2.46 89%

2.43 91%

CCT

15172 43%

7823 83%

Color Space (Percent of AdobeRGB 1998)

40
* ... más pequeño es mejor
PCMark 7 - Score (ordenar por valor)
Asus VivoBook S301LA-C1073H


HD Graphics 4400, 4200U, Hitachi Travelstar Z5K500 HTS545050A7E680

Lenovo IdeaPad U330p


HD Graphics 4400, 4200U, Seagate ST500LM000 Solid State Hybrid Drive

Lenovo IdeaPad U330p


HD Graphics 4400, 4200U, Seagate ST500LM000 Solid State Hybrid Drive

Asus VivoBook S300CA


HD Graphics 4000, 3217U, Hitachi Travelstar Z5K500 HTS545050A7E380

Samsung ATIV Book 9 Lite 905S3G-K01DE


Radeon HD 8250, A6-1450, Samsung SSD PM841 MZMTD128HAFV mSATA
PCMark 7 Score
2604 puntos
PCMark 8 Home Score Accelerated v2
2057 puntos
PCMark 8 Creative Score Accelerated v2
2029 puntos
PCMark 8 Work Score Accelerated v2
2924 puntos

ayuda
Asus VivoBook S301LA-C1073H


HD Graphics 4400, 4200U, Hitachi Travelstar Z5K500 HTS545050A7E680

Lenovo IdeaPad U330p


HD Graphics 4400, 4200U, Seagate ST500LM000 Solid State Hybrid Drive

Asus VivoBook S300CA


HD Graphics 4000, 3217U, Hitachi Travelstar Z5K500 HTS545050A7E380

Samsung ATIV Book 9 Lite 905S3G-K01DE


Radeon HD 8250, A6-1450, Samsung SSD PM841 MZMTD128HAFV mSATA

CrystalDiskMark 3.0

-26%

-27%

2196%

Write 4k

1.019

Read 4k

0.484

Write Seq

98.74

Read Seq

101.3
Hitachi Travelstar Z5K500 HTS545050A7E680
Tasa de Transferencia Mínima: 3.6 MB/s
Tasa de Transferencia Máxima: 100.5 MB/s
Tasa de Transferencia Promedio: 71.5 MB/s
Tiempo de Acceso: 20.7 ms
Velocidad de Ráfagas: 291.7 MB/s
3DMark 06 Standard
4471 puntos
3DMark 11 Performance
751 puntos
3DMark Ice Storm Standard Score
27756 puntos
3DMark Cloud Gate Standard Score
3286 puntos
3DMark Fire Strike Score
527 puntos

ayuda
bajo
medio
alto
ultra
GRID 2

(2013)

40
22.9
15.3
12.5
fps
Total War: Rome II

(2013)

29.7
22.5
16.4
fps
F1 2013

(2013)

35
22
18
12
fps
Ruido
Ocioso

30.6 / 32.7 / 32.7 dB(A)

HDD

33.1 dB(A)

Carga

40.2 / 40.4 dB(A)




30 dB
silencioso

40 dB(A)
audible

50 dB(A)
ruidosamente alto

min:

, med:

, max:

Voltcraft sl-320 (15 cm de distancia)
(+)
The average temperature for the upper side under maximal load is 31.5 °C / 89 F, compared to the average of 30.6 °C / 87 F for the devices in the class Subnotebook.
(+)
The maximum temperature on the upper side is 35.5 °C / 96 F, compared to the average of 35.7 °C / 96 F, ranging from 22 to 57 °C for the class Subnotebook.
(+)
The bottom heats up to a maximum of 36.1 °C / 97 F, compared to the average of 39.5 °C / 103 F
(+)
In idle usage, the average temperature for the upper side is 26.6 °C / 80 F, compared to the device average of 30.6 °C / 87 F.
(+)
The palmrests and touchpad are cooler than skin temperature with a maximum of 30 °C / 86 F and are therefore cool to the touch.
(±)
The average temperature of the palmrest area of similar devices was 28.4 °C / 83.1 F (-1.6 °C / -2.9 F).
Consumo de corriente
Off / Standby

0 / 0.2 Watt

Ocioso

4.4 / 6.8 / 7 Watt

Carga

30 / 28.3 Watt




Clave: min:

, med:

, max:

Voltcraft VC 940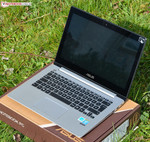 "Estilo y función a la perfección" - eso es lo que promete Asus en su web para el VivoBook S301LA. De hecho, el portátil ofrece una gran cantidad de calidades. La carcasa tiene una manufactura genial pero los dispositivos de entrada, pantalla táctil incluida, están meramente en la media. Ello hace que el portátil pierda puntos en áreas cruciales.
El display es un fallo evidente. El brillo es demasiado bajo para un subportátil portable con un panel reflectante. Lo que es más, los colores están muy desequilibrados y los ángulos de visión son limitados.
El rendimiento del Asus VivoBook está en la mitad superior de la tabla y puede defenderse frente a la competencia. Un SSD lo habría hecho imbatible. Nos gusta nparticularmente las bajas temperaturas de la carcasa en el test de estrés (sin ralentización).
En general, Asus ofrece un Ultrabook bien equilibrado por 650 Euros. Si puedes vivir con el display oscuro, el VivoBook tiene muchas características que ofrecer. Si necesitas alto rendimiento, el Samsung ATIV Book 9 Lite merece la pena verlo. El Lenovo IdeaPad U330p está disponible desde unos 680 Euros y ofrece un display mejor así como mayor duración de batería. También tiene una caché SSD integrada.
Ésta es una versión acortada del análisis original. Puedes leer el análisis completo en inglés aquí.