Breve análisis del portátil MSI GP60-2PEi585
MSI GP60-2PEi585


GeForce 840M, 4200H, Western Digital Scorpio Blue WD5000LPVX

Lenovo IdeaPad Y510p


GeForce GT 750M SLI, 4700MQ, Samsung SpinPoint M8 HN-M101MBB

Asus F550LN-CN89H


GeForce 840M, 4500U, Seagate Momentus SpinPoint M8 ST1000LM024 HN-M101MBB

Asus N550JK-CN109H


GeForce GTX 850M, 4200H, Seagate Momentus SpinPoint M8 ST1000LM024 HN-M101MBB

Display

3%

-29%

-11%

Display P3 Coverage

57.77

sRGB Coverage

86.33

AdobeRGB 1998 Coverage

59.49

Screen

-5%

-6%

5%

Brightness middle

228

Brightness

209

Brightness Distribution

77

Black Level *

0.3

Contrast

760

Colorchecker dE 2000 *

7.11

Greyscale dE 2000 *

8.38

Gamma

2.22 99%

2.55 86%

2.36 93%

2.63 84%

CCT

10041 65%

11341 57%

6991 93%

6119 106%

Color Space (Percent of AdobeRGB 1998)

56

Media total (Programa/Opciones)
* ... más pequeño es mejor
Cinebench R11.5
CPU Multi 64Bit (ordenar por valor)
MSI GP60-2PEi585


GeForce 840M, 4200H, Western Digital Scorpio Blue WD5000LPVX

Asus F550LN-CN89H


GeForce 840M, 4500U, Seagate Momentus SpinPoint M8 ST1000LM024 HN-M101MBB

Asus F550LN-CN89H


GeForce 840M, 4500U, Seagate Momentus SpinPoint M8 ST1000LM024 HN-M101MBB

Lenovo IdeaPad Y510p 59-395032


GeForce GT 755M, 4700MQ, Seagate ST1000LM014 Solid State Hybrid Drive

Asus VivoBook S451LB-CA072H


GeForce GT 740M, 4200U, Hitachi Travelstar Z5K500 HTS545050A7E680

Medion Akoya E6239T


HD Graphics (Bay Trail), N3510, Seagate Momentus SpinPoint M8 ST1000LM024 HN-M101MBB

CPU Single 64Bit (ordenar por valor)
MSI GP60-2PEi585


GeForce 840M, 4200H, Western Digital Scorpio Blue WD5000LPVX

Asus F550LN-CN89H


GeForce 840M, 4500U, Seagate Momentus SpinPoint M8 ST1000LM024 HN-M101MBB

Asus F550LN-CN89H


GeForce 840M, 4500U, Seagate Momentus SpinPoint M8 ST1000LM024 HN-M101MBB

Lenovo IdeaPad Y510p 59-395032


GeForce GT 755M, 4700MQ, Seagate ST1000LM014 Solid State Hybrid Drive

Asus VivoBook S451LB-CA072H


GeForce GT 740M, 4200U, Hitachi Travelstar Z5K500 HTS545050A7E680

Medion Akoya E6239T


HD Graphics (Bay Trail), N3510, Seagate Momentus SpinPoint M8 ST1000LM024 HN-M101MBB
PCMark 7 Score

2953 puntos
PCMark 8 Home Score Accelerated

2912 puntos
PCMark 8 Creative Score Accelerated

3077 puntos
PCMark 8 Work Score Accelerated

3690 puntos

ayuda
Western Digital Scorpio Blue WD5000LPVX
Tasa de Transferencia Mínima: 39.5 MB/s
Tasa de Transferencia Máxima: 118.6 MB/s
Tasa de Transferencia Promedio: 87 MB/s
Tiempo de Acceso: 20.4 ms
Velocidad de Ráfagas: 175 MB/s
3DMark 11 Performance

2562 puntos
3DMark Ice Storm Standard Score

54685 puntos
3DMark Cloud Gate Standard Score

6707 puntos
3DMark Fire Strike Score

1448 puntos

ayuda
Ruido
Ocioso

33 / 33.2 / 33.4 dB(A)

HDD

33.4 dB(A)

DVD

37.7 / 37.7 dB(A)

Carga

36.2 / 50 dB(A)




30 dB
silencioso

40 dB(A)
audible

50 dB(A)
ruidosamente alto

min:

, med:

, max:

Voltcraft sl-320 (15 cm de distancia)
(±)
The average temperature for the upper side under maximal load is 35.4 °C / 96 F, compared to the average of 31 °C / 88 F for the devices in the class Multimedia.
(±)
The maximum temperature on the upper side is 40.6 °C / 105 F, compared to the average of 36.7 °C / 98 F, ranging from 21.1 to 71 °C for the class Multimedia.
(±)
The bottom heats up to a maximum of 42.5 °C / 109 F, compared to the average of 39 °C / 102 F
(+)
In idle usage, the average temperature for the upper side is 25.9 °C / 79 F, compared to the device average of 31 °C / 88 F.
(±)
The palmrests and touchpad can get very hot to the touch with a maximum of 36.3 °C / 97.3 F.
(-)
The average temperature of the palmrest area of similar devices was 28.9 °C / 84 F (-7.4 °C / -13.3 F).
Consumo de corriente
Off / Standby

0.1 / 0.2 Watt

Ocioso

7.3 / 13.1 / 21.7 Watt

Carga

50.8 / 74.5 Watt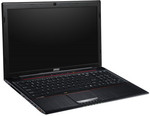 El GP60 2Pei585 Leopard solo es uno entre varios modelos similares con diferentes procesadores y tarjetas gráficas de MSI. Los componentes usados apenas justifican un precio de venta poco menos de 800 euros cuando solo el sistema operativo cuesta 100 euros. MSI ofrece el mismo equipamento (la ya antigua tarjeta gráfica GT740M y una CPU de cuatro núcleos Intel Core i7-4700MQ) sin sistema operativo por 600 euros..
La combinación CPU/GPU no es totalmente adecuada para jugones pero muchos juegos funcionan bien con ajustes altos, desafortunadamente a costa del uso intensivo del procesador. Por tanto, el sistema debe usarse en un escritorio mejor que en el jardín.
La pantalla no reflectiva de alta resolución Full HD merece ser destacada. No solo es suficientemente brillante, si no que tiene buen contraste y buenos ángulos de visualización. Su legibilidad en exteriores es mejor que la de la mayoría de la competencia.
Si no te importa la carcasa de plástico ligeramente ancha y quieres gastar tu tiempo con juegos exigentes, puedes comprar el MSI. Podrías tambien considerar un modelo más barato con tarjeta gráfica de la generación anterior pero con un procesador más rápido.
Ésta es una versión acortada del análisis original. Puedes leer el análisis completo en inglés aquí.