Breve análisis del Convertible HP EliteBook Revolve 810
Cinebench R11.5
CPU Single 64Bit (ordenar por valor)
HP EliteBook Revolve 810


HD Graphics 4000, 3437U, Samsung MZ7PC128HBFU

Panasonic Toughbook CF-AX2


HD Graphics 4000, 3427U, Samsung MZMPC128HBFU

Microsoft Surface Pro


HD Graphics 4000, 3317U, Micron RealSSD C400 MTFDDAT064M

Sony Vaio Duo 13 SVD1321M2E


HD Graphics 4400, 4200U, Samsung SSD PM841 MZMTD128HAGN mSATA

Fujitsu Lifebook T902


HD Graphics 4000, 3320M, Toshiba MK3261GSYN

CPU Multi 64Bit (ordenar por valor)
HP EliteBook Revolve 810


HD Graphics 4000, 3437U, Samsung MZ7PC128HBFU

Panasonic Toughbook CF-AX2


HD Graphics 4000, 3427U, Samsung MZMPC128HBFU

Microsoft Surface Pro


HD Graphics 4000, 3317U, Micron RealSSD C400 MTFDDAT064M

Sony Vaio Duo 13 SVD1321M2E


HD Graphics 4400, 4200U, Samsung SSD PM841 MZMTD128HAGN mSATA

Fujitsu Lifebook T902


HD Graphics 4000, 3320M, Toshiba MK3261GSYN
PCMark Vantage Result

12636 puntos
PCMark 7 Score

4417 puntos
PCMark 8 Home Score Accelerated

2700 puntos
PCMark 8 Creative Score Accelerated

2333 puntos
PCMark 8 Work Score Accelerated

4513 puntos

ayuda
AS SSD
4K Read (ordenar por valor)
HP EliteBook Revolve 810


HD Graphics 4000, 3437U, Samsung MZ7PC128HBFU

Panasonic Toughbook CF-AX2


HD Graphics 4000, 3427U, Samsung MZMPC128HBFU

Sony Vaio Duo 13 SVD1321M2E


HD Graphics 4400, 4200U, Samsung SSD PM841 MZMTD128HAGN mSATA

Microsoft Surface Pro


HD Graphics 4000, 3317U, Micron RealSSD C400 MTFDDAT064M

4K Write (ordenar por valor)
HP EliteBook Revolve 810


HD Graphics 4000, 3437U, Samsung MZ7PC128HBFU

Panasonic Toughbook CF-AX2


HD Graphics 4000, 3427U, Samsung MZMPC128HBFU

Sony Vaio Duo 13 SVD1321M2E


HD Graphics 4400, 4200U, Samsung SSD PM841 MZMTD128HAGN mSATA

Microsoft Surface Pro


HD Graphics 4000, 3317U, Micron RealSSD C400 MTFDDAT064M

4K-64 Read (ordenar por valor)
HP EliteBook Revolve 810


HD Graphics 4000, 3437U, Samsung MZ7PC128HBFU

Panasonic Toughbook CF-AX2


HD Graphics 4000, 3427U, Samsung MZMPC128HBFU

Sony Vaio Duo 13 SVD1321M2E


HD Graphics 4400, 4200U, Samsung SSD PM841 MZMTD128HAGN mSATA

Microsoft Surface Pro


HD Graphics 4000, 3317U, Micron RealSSD C400 MTFDDAT064M

4K-64 Write (ordenar por valor)
HP EliteBook Revolve 810


HD Graphics 4000, 3437U, Samsung MZ7PC128HBFU

Panasonic Toughbook CF-AX2


HD Graphics 4000, 3427U, Samsung MZMPC128HBFU

Sony Vaio Duo 13 SVD1321M2E


HD Graphics 4400, 4200U, Samsung SSD PM841 MZMTD128HAGN mSATA

Microsoft Surface Pro


HD Graphics 4000, 3317U, Micron RealSSD C400 MTFDDAT064M
Samsung MZ7PC128HBFU
Tasa de Transferencia Mínima: 293.3 MB/s

Tasa de Transferencia Máxima: 315.4 MB/s

Tasa de Transferencia Promedio: 305.7 MB/s

Tiempo de Acceso: 0.1 ms

Velocidad de Ráfagas: 183.8 MB/s

Uso de CPU: 7.8 %

3DMark 11 - 1280x720 Performance (ordenar por valor)
HP EliteBook Revolve 810


HD Graphics 4000, 3437U, Samsung MZ7PC128HBFU

Fujitsu Lifebook T902


HD Graphics 4000, 3320M, Toshiba MK3261GSYN

Microsoft Surface Pro


HD Graphics 4000, 3317U, Micron RealSSD C400 MTFDDAT064M

Panasonic Toughbook CF-AX2


HD Graphics 4000, 3427U, Samsung MZMPC128HBFU

Sony Vaio Duo 13 SVD1321M2E


HD Graphics 4400, 4200U, Samsung SSD PM841 MZMTD128HAGN mSATA
Cinebench R11.5 - OpenGL 64Bit (ordenar por valor)
HP EliteBook Revolve 810


HD Graphics 4000, 3437U, Samsung MZ7PC128HBFU

Fujitsu Lifebook T902


HD Graphics 4000, 3320M, Toshiba MK3261GSYN

Microsoft Surface Pro


HD Graphics 4000, 3317U, Micron RealSSD C400 MTFDDAT064M

Panasonic Toughbook CF-AX2


HD Graphics 4000, 3427U, Samsung MZMPC128HBFU

Sony Vaio Duo 13 SVD1321M2E


HD Graphics 4400, 4200U, Samsung SSD PM841 MZMTD128HAGN mSATA
3DMark 06 Standard

4546 puntos
3DMark Vantage P Result

2917 puntos
3DMark 11 Performance

601 puntos
3DMark Ice Storm Standard Score

30376 puntos
3DMark Cloud Gate Standard Score

3209 puntos
3DMark Fire Strike Score

414 puntos
3DMark Fire Strike Extreme Score

204 puntos

ayuda
Ruido
Ocioso

28 / 28 / 28 dB(A)

Carga

37.2 / 40.3 dB(A)




30 dB
silencioso

40 dB(A)
audible

50 dB(A)
ruidosamente alto

min:

, med:

, max:

PCE-322A (15 cm de distancia)
(-)
The average temperature for the upper side under maximal load is 38.4 °C / 101 F, compared to the average of 30.3 °C / 87 F for the devices in the class Convertible.
(-)
The maximum temperature on the upper side is 45.8 °C / 114 F, compared to the average of 35.3 °C / 96 F, ranging from 21.8 to 55.7 °C for the class Convertible.
(-)
The bottom heats up to a maximum of 45.6 °C / 114 F, compared to the average of 36.6 °C / 98 F
(+)
In idle usage, the average temperature for the upper side is 31.5 °C / 89 F, compared to the device average of 30.3 °C / 87 F.
(+)
The palmrests and touchpad are reaching skin temperature as a maximum (34.3 °C / 93.7 F) and are therefore not hot.
(-)
The average temperature of the palmrest area of similar devices was 28.6 °C / 83.5 F (-5.7 °C / -10.2 F).
Consumo de corriente
Off / Standby

0.1 / 0.2 Watt

Ocioso

7.1 / 9.6 / 10.8 Watt

Carga

35.2 / 41.1 Watt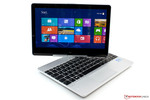 El HP EliteBook Revolve 810 definitivamente no es un auténtico todoterreno, sino mas bien un ultrabook convertible premium que resulta ser capaz de aguantar alguna que otra paliza. Debido a su inusual diseño, llamará definitivamente la atención.
Es extremadamente adecuado para las presentaciones, sirviendo así de excelente compañero de viajes en el mundo de negocios actual (a pesar de su mediocre duración de batería) debido a su mas que decente modem WWAN que es compatible con la mayoría de redes móviles de la Tierra.
Su principal desventaja tiene relación con su precio premium - que resultará ser demasiado para la mayoría de pequeños y medianos negocios, especialmente dado que una serie de características cruciales tales como el lector de Smartcard tienen que adaptarse con ofertas de terceros.
Aquellos que necesiten un portátil de clase business algo robustezido quizá quieran echarle un vistazo también al Panasonic Toughbook. Los diseñadores gráficos y los fotógrafos puede que se contenten con el Sony Vaio Duo 13 que viene con un display incluso mejor con una cobertura decente del espacio de color sRGB.
Esta es una versión acortada del análisis original. Puedes leer el análisis completo en inglés aquí.