Breve análisis del Convertible HP Pavilion 13-a000ng x360
HP Pavilion 13-a000ng x360


HD Graphics 4400, 4030U, Seagate ST500LM000 Solid State Hybrid Drive

Lenovo Yoga 2 13


HD Graphics 4400, 4010U, WD Blue UltraSlim WD5000MPCK-22AWHT0

Toshiba Satellite W30Dt-A-100


Radeon HD 8180, A4-1200, WD Blue UltraSlim WD5000MPCK-22AWHT0

Lenovo Yoga 2 Pro


HD Graphics 4400, 4200U, Samsung SSD PM841 MZMTD128HAFV mSATA

Display
Display P3 Coverage

65.47

39.12

42.03

sRGB Coverage

96.23

57.91

63.31

AdobeRGB 1998 Coverage

67.68

40.13

43.42

Screen

43%

15%

45%

Brightness middle

168

Brightness

156

Brightness Distribution

88

Black Level *

0.39

Contrast

431

Colorchecker DeltaE2000 *

9.65

Greyscale DeltaE2000 *

10.03

Gamma

2.09 105%

2.5 88%

2.33 94%

2.44 90%

CCT

11308 57%

6771 96%

6993 93%

6461 101%

Color Space (Percent of AdobeRGB 1998)

62.1

36.7

40.49

Media total (Programa/Opciones)
* ... más pequeño es mejor
PCMark 7 Score

3349 puntos
PCMark 8 Home Score Accelerated v2

2179 puntos
PCMark 8 Creative Score Accelerated v2

2224 puntos
PCMark 8 Work Score Accelerated v2

3115 puntos

ayuda
Seagate ST500LM000 Solid State Hybrid Drive
Tasa de Transferencia Mínima: 46 MB/s

Tasa de Transferencia Máxima: 112.2 MB/s

Tasa de Transferencia Promedio: 85.8 MB/s

Tiempo de Acceso: 17.6 ms

Velocidad de Ráfagas: 149.7 MB/s

Uso de CPU: 11.4 %

3DMark 11 Performance

812 puntos
3DMark Ice Storm Standard Score

32613 puntos
3DMark Cloud Gate Standard Score

3711 puntos

ayuda
Ruido
Ocioso

33.5 / 33.7 / 33.7 dB(A)

Carga

38.7 / 43.6 dB(A)




30 dB
silencioso

40 dB(A)
audible

50 dB(A)
ruidosamente alto

min:

, med:

, max:

Voltcraft sl- 320 (15 cm de distancia)
(+)
The average temperature for the upper side under maximal load is 29.7 °C / 85 F, compared to the average of 30.3 °C / 87 F for the devices in the class Convertible.
(+)
The maximum temperature on the upper side is 34.1 °C / 93 F, compared to the average of 35.3 °C / 96 F, ranging from 21.8 to 55.7 °C for the class Convertible.
(+)
The bottom heats up to a maximum of 35.5 °C / 96 F, compared to the average of 36.6 °C / 98 F
(+)
In idle usage, the average temperature for the upper side is 25.3 °C / 78 F, compared to the device average of 30.3 °C / 87 F.
(+)
The palmrests and touchpad are cooler than skin temperature with a maximum of 29.2 °C / 84.6 F and are therefore cool to the touch.
(±)
The average temperature of the palmrest area of similar devices was 28.6 °C / 83.5 F (-0.6 °C / -1.1 F).
Consumo de corriente
Off / Standby

0 / 0.2 Watt

Ocioso

4 / 5.9 / 6.1 Watt

Carga

26.1 / 29.7 Watt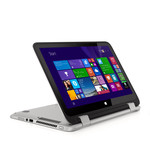 Hoy en día, los fabricantes parecen tener que cogerle el ritmo a nuevas sendas para sobresalir en una industria que siempre avanza. Mientras todo se limitaba a aumentar los valores de frecuencia durante el milenio, en los últimos pocos años se han centrado en el número de núcleos y en mejorar la eficiencia de los componentes del sistema. Hoy un "portátil" tiene que ser más que un portátil convencional para prevalecer sobre la fuerte competencia de dispositivos premium de clase business, subportátiles ultraportables o prácticos tablets.
HP intenta ahora estar a la altura del éxito inicial del Lenovo Yoga de la gama media de precios, y eso ha mejorado incluso con su Yoga 2 13. Por desgracia, la empresa falla debido a algunos puntos de crítica menores. La pantalla tan dependiente de los ángulos de visión hacen casi imposible el manejo del tablet. La pantalla reflectante distrae en el uso rutinario de oficina y sobremesa, y queda incluso reforzado por la matriz táctil que a veces queda visible, el moderado brillo y la falta de nitidez. Aunque los otros componentes, tales como el procesador, son sóiidos cuales rocas, la auténtica versatilidad por la que HP pide naturalmente un sobreprecio al comprador sólo está moderadamente implementada.
Los compradores que quieran usar el dispositivo principalmente como un portátil inusual en modo escritorio y sólo ocasionalmente use las características táctiles y la pantalla variable quedarán bien servidos con el convertible de HP. Sin embargo, hay que hacer sacrificios en la calidad del display y la pantalla. Los compradores que realmente quieran usar todas las ventajas de un sistema tan versátil, deberían optar preferiblemente por el Lenovo Yoga 2 13 100 Euros más caro, principalmente por su superior pantalla.
Ésta es una versión acortada del análisis original. Puedes leer el análisis completo en inglés aquí.