Breve análisis del Convertible MSI S100
PC-monedero El MSI S100 es el PC perfecto para los viajeros porque es ligero, barato y está bien protegido. Trae una carcasa que incluye un teclado usable. Así pues ¿cuáles son los límites de este 2-en-1 barato de 10"? Lee el análisis para descubrirlo.
PCMark 7 Score
2151 puntos

ayuda
* ... más pequeño es mejor
3DMark 11 Performance
211 puntos

ayuda
bajo
medio
alto
ultra
World of Warcraft

(2005)

38
28
fps
(±)
The average temperature for the upper side under maximal load is 33.2 °C / 92 F, compared to the average of 30.3 °C / 87 F for the devices in the class Convertible.
(-)
The maximum temperature on the upper side is 45.1 °C / 113 F, compared to the average of 35.3 °C / 96 F, ranging from 21.8 to 55.7 °C for the class Convertible.
(+)
The bottom heats up to a maximum of 37.4 °C / 99 F, compared to the average of 36.5 °C / 98 F
(+)
In idle usage, the average temperature for the upper side is 28.5 °C / 83 F, compared to the device average of 30.3 °C / 87 F.
(±)
The palmrests and touchpad can get very hot to the touch with a maximum of 36.8 °C / 98.2 F.
(-)
The average temperature of the palmrest area of similar devices was 28.8 °C / 83.8 F (-8 °C / -14.4 F).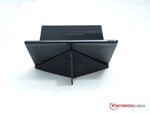 El MSI S100 podría haber sido un buen 2-en-1 ligero, pero ha sido construido con un precio en mente y eso se nota en algunos de los problemas que encontramos. *Si* los problemas de la barra espaciadora y el Turbo Boost de la CPU fueran los únicos problemas de nuestro dispositivo de pruebas, sería un buen PC de viaje que puede almacenar un sin fin de fotos y ofrecer un buen nivel de entretenimiento y creatividad tipo blogging. No hay forma de llamar al S100 un 'mini Surface Pro' ya que está en una categoría completamente diferente en términos de construcción y rendimiento.
El diseño de la carcasa-teclado tiene ventajas en términos de peso y protección de dispositivo y le hemos sumado puntos por eso. También nos alegra que haya un puerto HDMI, lo que implica que, en caso de necesidad, puedes conectar una pantalla y un teclado apropiados y usar el S100 como PC básico. Si tienes paciencia podrás sacarle valor al año incluido de servicio Office 365.
En definitiva, no es un 2-en-1 excitante pero podría encajar en varios escenarios de uso al precio adecuado. Es un buen portátil (y bien protegido) para las vacaciones, para usarlo en el coche y para los niños. Los 64GB de almacenamiento permiten cargar muchos vídeos y apps de Windows Store lo que también añade valor a esos momentos en los que hace falta cierto entretenimiento básico.
Ésta es una versión acortada del análisis original. Puedes leer el análisis completo en inglés aquí.