Breve análisis del Tablet Lenovo IdeaTab A1000
Básico revisado. Lenovo lanza un tablet de 7" económico con SO Android y hardware de baja potencia. ¿Puede arreglárselas la oferta del rincón de las gangas del conocido fabricante o las medidas de ahorro han ido demasiado lejos?
* ... más pequeño es mejor
(±)
The average temperature for the upper side under maximal load is 34.4 °C / 94 F, compared to the average of 30.6 °C / 87 F for the devices in the class Tablet.
(±)
The maximum temperature on the upper side is 41.2 °C / 106 F, compared to the average of 34.7 °C / 94 F, ranging from 22.2 to 51.8 °C for the class Tablet.
(+)
The bottom heats up to a maximum of 39.7 °C / 103 F, compared to the average of 34.1 °C / 93 F
(+)
In idle usage, the average temperature for the upper side is 31.5 °C / 89 F, compared to the device average of 30.6 °C / 87 F.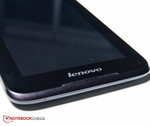 No cabe duda de que el Lenovo IdeaTab A1000 es un tablet de manufactura decente con un buen juego de altavoces. En lo tocante al resto del paquete, la lista de sacrificios necesarios es bastante larga: la resolución del display de 1024 x 600 pixels es sencillamente insatisfactoria, la estabilidad de ángulos de visión es inferior a la de los displays IPS, y el rendimiento del tablet queda lejos de sobresalir. Una cámara trasera no habría estado en la lista de exigencias de todos, pero nos gustaría que la cámara frontal ofreciera una mejor calidad. El módulo GPS se las ve y se las desea para conectar con los satélites, y los módulos WLAN tienen problemas con distancias largas entre ellos y el router. En el lado positivo, la duración de la batería es adecuada, y el brillo del display es lo bastante alto como para permitir salir fuera sin restricciones importantes.
Una muy buena alternativa en este momento es el Asus MeMo Pad HD 7, que se vende por unos $150 y ofrece un display HD IPS, dos cámaras, y mejor rendimiento. Los usuarios interesados en un tablet con display y rendimiento de primera deberían echar un vistazo al nuevo Google Nexus 7.