Breve análisis del portátil Dell Latitude E6540 (i7-4800MQ/HD 8790M)
Cinebench R11.5 - CPU Multi 64Bit (ordenar por valor)
Dell Latitude E6540 FHD HD 8790M


Radeon HD 8790M, 4800MQ, Liteonit LCS-128M6S

Schenker W503


GeForce GTX 765M, 4800MQ, Samsung SSD PM841 MZMTD128HAFV mSATA

Dell Latitude E6530


HD Graphics 4000, 3360M, Seagate Momentus 7200.4 ST9500423AS

Toshiba Tecra R950-192


Radeon HD 7570M, 3540M, Toshiba MK3261GSYG

Lenovo ThinkPad T530 2429-5XG


NVS 5400M, 3520M, Hitachi Travelstar Z7K500 HTS725050A7E630

HP EliteBook 8570p-B6Q03EA-ABD


Radeon HD 7570M, 3520M, Hitachi HTS727550A9E364
PCMark Vantage Result

16771 puntos
PCMark 7 Score

4983 puntos

ayuda
PCMark 7 - Score (ordenar por valor)
Dell Latitude E6540 FHD HD 8790M


Radeon HD 8790M, 4800MQ, Liteonit LCS-128M6S

Schenker W503


GeForce GTX 765M, 4800MQ, Samsung SSD PM841 MZMTD128HAFV mSATA

Dell Latitude E6530


HD Graphics 4000, 3360M, Seagate Momentus 7200.4 ST9500423AS

Toshiba Tecra R950-192


Radeon HD 7570M, 3540M, Toshiba MK3261GSYG

Lenovo ThinkPad T530 2429-5XG


NVS 5400M, 3520M, Hitachi Travelstar Z7K500 HTS725050A7E630

HP EliteBook 8570p-B6Q03EA-ABD


Radeon HD 7570M, 3520M, Hitachi HTS727550A9E364
Liteonit LCS-128M6S
Tasa de Transferencia Mínima: 127.5 MB/s
Tasa de Transferencia Máxima: 354.6 MB/s
Tasa de Transferencia Promedio: 302.3 MB/s
Velocidad de Ráfagas: 242.2 MB/s
3DMark 03 Standard

27395 puntos
3DMark 05 Standard

23810 puntos
3DMark 06 Standard Score

13118 puntos
3DMark Vantage P Result

9835 puntos
3DMark 11 Performance

2425 puntos
3DMark Ice Storm Standard Score

58386 puntos
3DMark Cloud Gate Standard Score

9478 puntos
3DMark Fire Strike Score

1648 puntos

ayuda
3DMark 11 - 1280x720 Performance (ordenar por valor)
Dell Latitude E6540 FHD HD 8790M


Radeon HD 8790M, 4800MQ, Liteonit LCS-128M6S

Schenker W503


GeForce GTX 765M, 4800MQ, Samsung SSD PM841 MZMTD128HAFV mSATA

Dell Latitude E6530


HD Graphics 4000, 3360M, Seagate Momentus 7200.4 ST9500423AS

Toshiba Tecra R950-192


Radeon HD 7570M, 3540M, Toshiba MK3261GSYG

Lenovo ThinkPad T530 2429-5XG


NVS 5400M, 3520M, Hitachi Travelstar Z7K500 HTS725050A7E630

HP EliteBook 8570p-B6Q03EA-ABD


Radeon HD 7570M, 3520M, Hitachi HTS727550A9E364
Ruido
Ocioso

32.2 / 33.3 / 33.4 dB(A)

DVD

35.5 / dB(A)

Carga

40.7 / 41.3 dB(A)




30 dB
silencioso

40 dB(A)
audible

50 dB(A)
ruidosamente alto

min:

, med:

, max:

Voltcraft sl-320 (15 cm de distancia)
(-)
The average temperature for the upper side under maximal load is 38.1 °C / 101 F, compared to the average of 29.4 °C / 85 F for the devices in the class Office.
(±)
The maximum temperature on the upper side is 43.6 °C / 110 F, compared to the average of 34 °C / 93 F, ranging from 21.2 to 62.5 °C for the class Office.
(-)
The bottom heats up to a maximum of 53.8 °C / 129 F, compared to the average of 36.6 °C / 98 F
(+)
In idle usage, the average temperature for the upper side is 28.2 °C / 83 F, compared to the device average of 29.4 °C / 85 F.
(±)
The palmrests and touchpad can get very hot to the touch with a maximum of 37 °C / 98.6 F.
(-)
The average temperature of the palmrest area of similar devices was 27.9 °C / 82.2 F (-9.1 °C / -16.4 F).
Consumo de corriente
Off / Standby

0 / 0.3 Watt

Ocioso

8.8 / 13 / 16.7 Watt

Carga

67.6 / 88.4 Watt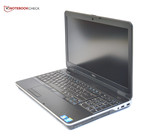 El Dell Latitude E6540 es un portátil de empresa, por lo que display, dispositivos de entrada, calidad y mantenimiento son especialmente importnates. ElE6540 no nos decepciona y es convincente en estas categorías. El teclado ligeramente esponjoso el pequeño problema de calidad en la cubierta del display quedan compensados con el display mate Full HD.
Un pequeño defecto es la limitada variedad de puertos; tienes que pasar sin ExpressCard, FireWire ni DisplayPort. Nuestra unidad de pruebas tampoco trae características de seguridad como el lector de huellas o el lector de SmartCard.
Por ahora, el Latitude E6540 no sobresale de la competencia, pero viene equipado con lo último en componentes muy potentes. Si quieres comprar un nuevo portátil de empresa basado en la arquitectura Haswell casi no hay alternativas por ahora.
La competencia no puede seguirle el ritmo en lo referente a rendimiento pero el precio a pagar por ello son las elevadas emisiones y los ahogos a carga máxima. La gran batería de 90 Wh tiene energía suficiente para trabajar lejos de un enchufe (dura de 6 a 7 horas).
Debido a esos pequeños defectos, el portátil no será ideal para todos y un precio de venta de 1,860 Euros también resulta bastante caro.
Esta es una versión acortada del análisis original. Puedes leer el análisis completo en inglés aquí.