Breve análisis del Chromebook Asus C200MA-KX003
* ... más pequeño es mejor
Asus C200MA-KX003
Mozilla Kraken 1.1
Total Score *

4482

Octane V2
Total Score

7321




7161



Browsermark
2.1

1988
* ... más pequeño es mejor
(±)
The average temperature for the upper side under maximal load is 32 °C / 90 F, compared to the average of 29.8 °C / 86 F for the devices in the class Netbook.
(+)
The maximum temperature on the upper side is 36.1 °C / 97 F, compared to the average of 33.1 °C / 92 F, ranging from 21.6 to 53.2 °C for the class Netbook.
(+)
The bottom heats up to a maximum of 34.3 °C / 94 F, compared to the average of 36.6 °C / 98 F
(+)
In idle usage, the average temperature for the upper side is 26 °C / 79 F, compared to the device average of 29.8 °C / 86 F.
(+)
The palmrests and touchpad are cooler than skin temperature with a maximum of 28.8 °C / 83.8 F and are therefore cool to the touch.
(±)
The average temperature of the palmrest area of similar devices was 29.3 °C / 84.7 F (+0.5 °C / 0.9 F).
Consumo de corriente
Off / Standby

0 / 0 Watt

Ocioso

2.2 / 3.6 / 0 Watt

Carga

/ 9 Watt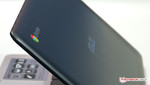 El ASUS C200 es un Chromebook y dentro de esos límites ASUS ha hecho una labor excelente. Es un portátil sencillo, bien construido y eficiente que soporta las velocidades y estándares WiFi necesarias para una buena experiencia 'nube'. Su rendimiento es de gama media, y ahí está el cuello de botella si estás pensando en un Chromebook para trabajar en la web. La pantalla no es precisamente de primera, pero va bien para el precio. Una opción IPS full HD sería bienvenida.
El Acer C720 Chromebook es el competidor número 1 del ASUS C200 y ofrece más potencia de procesado por menos precio, aunque preferimos el teclado y el touchpad del ASUS C200 para trabajos de mayor duración. El Acer C720 no soporta WiFi AC y su batería no dura tanto como la del ASUS C200.
El ASUS C200 también es silencioso, tiene buenos altavoces y trae 100 GB de almacenamiento online. Ese almacenamiento se limita a dos años, pero a $229 (precio USA a fecha de redacción) sigue siendo una ganga, especialmente teniendo en cuenta la promesa de algún soporte de aplicaciones Android, mejoras regulares de SO y la enorme comunidad y el maduro ecosistema de aplicación.

Un sustituto de PC tiene que cubrir más del 100% de tus casos de uso diarios y por desgracia el ASUS C200 no lo logrará para la mayoría de gente, pero si estás preparado para aceptar el 95% y cubrir el hueco con algunos apaños y un uso ocasional del PC, el ASUS C200 podría ser tu mejor opción compacta de gran duración de batería.