Breve análisis del portátil Lenovo IdeaPad Flex 2 14
PCMark 7 Score
3816 puntos
PCMark 8 Home Score Accelerated v2
2274 puntos
PCMark 8 Creative Score Accelerated v2
2536 puntos
PCMark 8 Work Score Accelerated v2
2877 puntos

ayuda
Samsung SSD PM851 128 GB MZ7TE128HMGR
Sequential Read: 485.3MB/s
Sequential Write: 126.4MB/s
Access Time Write: 0.06ms
* ... más pequeño es mejor
3DMark 11 Performance
2260 puntos
3DMark Ice Storm Standard Score
41150 puntos
3DMark Cloud Gate Standard Score
4600 puntos
3DMark Fire Strike Score
1286 puntos

ayuda
Ruido
Ocioso

29.2 / 29.8 / 30.4 dB(A)

Carga

33.2 / 36.4 dB(A)




30 dB
silencioso

40 dB(A)
audible

50 dB(A)
ruidosamente alto

min:

, med:

, max:

Voltcraft sl-320 (15 cm de distancia)
(±)
The average temperature for the upper side under maximal load is 37 °C / 99 F, compared to the average of 30.3 °C / 87 F for the devices in the class Convertible.
(±)
The maximum temperature on the upper side is 42 °C / 108 F, compared to the average of 35.3 °C / 96 F, ranging from 21.8 to 55.7 °C for the class Convertible.
(-)
The bottom heats up to a maximum of 47.9 °C / 118 F, compared to the average of 36.5 °C / 98 F
(+)
In idle usage, the average temperature for the upper side is 28.3 °C / 83 F, compared to the device average of 30.3 °C / 87 F.
(+)
The palmrests and touchpad are reaching skin temperature as a maximum (35.9 °C / 96.6 F) and are therefore not hot.
(-)
The average temperature of the palmrest area of similar devices was 28.9 °C / 84 F (-7 °C / -12.6 F).
Consumo de corriente
Off / Standby

0.1 / 0.3 Watt

Ocioso

4.7 / 7.7 / 12.9 Watt

Carga

33 / 46.3 Watt




Clave: min:

, med:

, max:

Voltcraft VC 940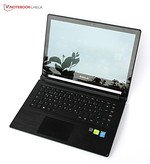 No es tan flexible como el Lenovo Yoga 2 13, pero a cambio ahorras 100 euros. Puedes ahorrarte ese dinero si no necesitas el modo Tablet del Yoga. Aparte de eso los dos convertibles son muy similares - el Lenovo Flex 2 14 tiene una pantalla 0.7 pulgadas más grande y s medio kilo más pesado.
Sin embargo, el Flex 2 14 no es realmente un sucesor del IdeaPad Flex 14 ya que las diferencias son muy pequeñas - ni siquiera ha cambiado la generación del procesador. La carcasa ha crecido un poco en todas las dimensiones y el peso se ha incrementado ligeramente. La pantalla finalmente es Full HD pero no puede ser usada en exteriores y los ángulos de visualización no son perfectos.
La batería es bastante más pequeña, pero no afecta a su duración. Sin embargo, ésta ya no era realmente competitiva en el IdeaPad Flex 14. Una ventaja mucho más importante es la tarjeta gráfica dedicada. La GeForce 840M es suficientemente potente para juegos antiguos o juegos más recientes con niveles medios, lo que debería ser suficiente para los jugones menos ambiciosos.
En general, el Flex 2 14 es un convertible solido y barato. Muchos detalles no son muy sofisticados, por ejemplo la posición del botón de apagado o que haya solo un puerto USB 3.0. La pantalla y el sonido metálico al retorcer la unidad base dejan una impresión de bajo coste.
Si puedes soportar esos inconvenientes por este precio, consigues un convertible bien equipado para tareas estandar que posee un rápido SSD, Gigabit LAN y buenos dispositivos de entrada. Debido a los problemas de escalado afectan a muchas aplicaciones le quitamos un punto de la puntuación final.