Breve análisis del Convertible Lenovo Yoga 3 14
Lenovo Yoga 3 14


HD Graphics 5500, 5200U, Samsung SSD PM851 256 GB MZYTE256HMHP

Lenovo Flex 2 14


GeForce 840M, 4010U, Samsung SSD PM851 128 GB MZ7TE128HMGR

Asus Transformer Book Flip TP300LD-C4031H


GeForce 820M, 4510U, SanDisk SD6SB1M128G1002

Lenovo Yoga 2 13


HD Graphics 4400, 4010U, WD Blue UltraSlim WD5000MPCK-22AWHT0

Lenovo Yoga 2 Pro


HD Graphics 4400, 4200U, Samsung SSD PM841 MZMTD128HAFV mSATA

Screen

15%

18%

16%

15%

Brightness middle

234.6

Brightness

225

Brightness Distribution

82

Black Level *

0.394

Contrast

595

Colorchecker DeltaE2000 *

5.22

Greyscale DeltaE2000 *

3.35

Gamma

2.27 97%

2.53 87%

2.35 94%

2.5 88%

2.44 90%

CCT

6184 105%

6401 102%

6435 101%

6771 96%

6461 101%

Color Space (Percent of AdobeRGB 1998)

36.92
* ... más pequeño es mejor
PCMark 7 Score
4659 puntos
PCMark 8 Home Score Accelerated v2
2795 puntos
PCMark 8 Creative Score Accelerated v2
3756 puntos
PCMark 8 Work Score Accelerated v2
3315 puntos

ayuda
* ... más pequeño es mejor
3DMark 06 Standard
6041 puntos
3DMark Vantage P Result
4030 puntos
3DMark 11 Performance
1013 puntos
3DMark Ice Storm Standard Score
42707 puntos
3DMark Cloud Gate Standard Score
4537 puntos
3DMark Fire Strike Score
610 puntos

ayuda
Ruido
Ocioso

32.2 / 32.5 / 32.6 dB(A)

Carga

33.6 / 37.2 dB(A)




30 dB
silencioso

40 dB(A)
audible

50 dB(A)
ruidosamente alto

min:

, med:

, max:

Voltcraft sl-300 (15 cm de distancia)
(+)
The average temperature for the upper side under maximal load is 27.4 °C / 81 F, compared to the average of 30.3 °C / 87 F for the devices in the class Convertible.
(+)
The maximum temperature on the upper side is 34.6 °C / 94 F, compared to the average of 35.2 °C / 95 F, ranging from 21.8 to 55.7 °C for the class Convertible.
(±)
The bottom heats up to a maximum of 44.4 °C / 112 F, compared to the average of 36.5 °C / 98 F
(+)
In idle usage, the average temperature for the upper side is 22.7 °C / 73 F, compared to the device average of 30.3 °C / 87 F.
(+)
The palmrests and touchpad are cooler than skin temperature with a maximum of 23.8 °C / 74.8 F and are therefore cool to the touch.
(+)
The average temperature of the palmrest area of similar devices was 28.7 °C / 83.7 F (+4.9 °C / 8.9 F).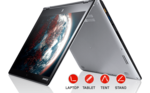 Hardware actualizado, pantalla más grande, mejor aguante de batería - ¿qué más se le puede pedir? El Yoga 3 14 mejora respecto al predecesor Yoga 2 13 en bastantes áreas. A pesar de la pantalla de 14" y la batería más pequeña, el nuevo modelo es capaz de un mejor rendimiento y de una duración de batería bastante mayor. El SSD Samsung de 256 GB es ultrarrápido y los tiempos de arranque, apagado y lanzamiento de aplicaciones son realmente impresionantes. El convertible sigue siendo razonablemente silencioso en circunstancias normales y maneja los escenarios de gran carga sin romper a sudar. Los dispositivos de entrada funcionan bastante bien para ser un dispositivo doméstico y el teclado también tiene retroiluminación, lo que está muy bien. Los diversos modos funcionan bien, aunque recomendaríamos evitar el modo Atril, ya que el teclado queda desprotegido y toca la superficie sobre la que esté descansando.
Por desgracia, la nueva pantalla no es tan brillante como la del predecesor, que tampoco es que fuera muy brillante para empezar, y sólo cubre la mitad del espacio de color sRGB. El uso en exteriores en condiciones luminosas está muy limitado, por lo que los usuarios que tengan que salir al exterior tendrán que buscar otro dispositivo. Una opción es el propio hermano mayor Lenovo Yoga 2 Pro, que ofrece un display QHD+ bastante más brillante (340 nits, 3200 x 1800 pixels). A fecha de redacción, Lenovo vende la versión con Core i5-4210U, 8 GB de RAM, y 256 GB de SSD por unos $850. El Asus Transformer Book Flip también tiene una pantalla más brillante y ofrece una gráfica básica, por lo que el rendimiento de juego es algo mejor. El Acer Aspire R13 R7 también es decente, si bien una elección muy poco convencional, aunque la web americana del fabricante sólo ofrece modelos equipados con la anterior generación Haswell por ahora a partir de los $900. Los compradores preocupados por el valor pueden querer mirar también el Lenovo Flex 2 14, que sólo soporta dos modos, pero que sigue trayendo un display IPS a pesar del bajo precio inicial de $530.
Ésta es una versión acortada del análisis original. Puedes leer el análisis completo en inglés aquí.