Breve análisis del portátil Lenovo IdeaPad G50-70
PCMark 7 Score

2688 puntos
PCMark 8 Home Score Accelerated v2

2974 puntos
PCMark 8 Creative Score Accelerated v2

3355 puntos
PCMark 8 Work Score Accelerated v2

3952 puntos

ayuda
Seagate Momentus Thin ST500LT012-1DG142
Sequential Write: 78 MB/s
3DMark 11 Performance

1302 puntos
3DMark Ice Storm Standard Score

44899 puntos
3DMark Cloud Gate Standard Score

3899 puntos
3DMark Fire Strike Score

720 puntos

ayuda
3DMark 11 - 1280x720 Performance (ordenar por valor)
Lenovo IdeaPad G50-70


Radeon R5 M230, 4200U, Seagate Momentus Thin ST500LT012-1DG142

Dell Inspiron 15-5547


Radeon R7 M265, 4210U, WDC Scorpio Blue WD10JPVX-75JC3T0

Lenovo G500s-59367693


HD Graphics (Ivy Bridge), 2020M, Seagate Momentus Thin ST500LT0 12-9WS142

Acer Aspire E1-572G-54204G50Mnkk


Radeon R7 M265, 4200U, Seagate Momentus Thin ST500LT0 12-9WS142

Asus X550LD-XX023H


GeForce 820M, 4200U, Toshiba MQ01ABF050

HP Compaq 15-a024sg


GeForce 820M, 3110M, HGST Travelstar 5K1000 HTS541010A9E680

HP Pavilion 15-n213eg


GeForce GT 740M, 4200U, Toshiba MQ01ABD100

MSI CX61-i572M


GeForce GT 720M, 4200M, WDC Scorpio Blue WD10JPVX-22JC3T0
3DMark
1280x720 Ice Storm Standard Score (ordenar por valor)
Lenovo IdeaPad G50-70


Radeon R5 M230, 4200U, Seagate Momentus Thin ST500LT012-1DG142

Dell Inspiron 15-5547


Radeon R7 M265, 4210U, WDC Scorpio Blue WD10JPVX-75JC3T0

Lenovo G500s-59367693


HD Graphics (Ivy Bridge), 2020M, Seagate Momentus Thin ST500LT0 12-9WS142

Acer Aspire E1-572G-54204G50Mnkk


Radeon R7 M265, 4200U, Seagate Momentus Thin ST500LT0 12-9WS142

Asus X550LD-XX023H


GeForce 820M, 4200U, Toshiba MQ01ABF050

HP Compaq 15-a024sg


GeForce 820M, 3110M, HGST Travelstar 5K1000 HTS541010A9E680

HP Pavilion 15-n213eg


GeForce GT 740M, 4200U, Toshiba MQ01ABD100

MSI CX61-i572M


GeForce GT 720M, 4200M, WDC Scorpio Blue WD10JPVX-22JC3T0

1280x720 Cloud Gate Standard Score (ordenar por valor)
Lenovo IdeaPad G50-70


Radeon R5 M230, 4200U, Seagate Momentus Thin ST500LT012-1DG142

Dell Inspiron 15-5547


Radeon R7 M265, 4210U, WDC Scorpio Blue WD10JPVX-75JC3T0

Lenovo G500s-59367693


HD Graphics (Ivy Bridge), 2020M, Seagate Momentus Thin ST500LT0 12-9WS142

Acer TravelMate P255-MG-54204G50Mnkk


Radeon R7 M265, 4200U, Seagate Momentus Thin ST500LT0 12-9WS142

Acer Aspire E1-572G-54204G50Mnkk


Radeon R7 M265, 4200U, Seagate Momentus Thin ST500LT0 12-9WS142

Asus X550LD-XX023H


GeForce 820M, 4200U, Toshiba MQ01ABF050

HP Compaq 15-a024sg


GeForce 820M, 3110M, HGST Travelstar 5K1000 HTS541010A9E680

HP Pavilion 15-n213eg


GeForce GT 740M, 4200U, Toshiba MQ01ABD100

MSI CX61-i572M


GeForce GT 720M, 4200M, WDC Scorpio Blue WD10JPVX-22JC3T0

1920x1080 Fire Strike Score (ordenar por valor)
Lenovo IdeaPad G50-70


Radeon R5 M230, 4200U, Seagate Momentus Thin ST500LT012-1DG142

Dell Inspiron 15-5547


Radeon R7 M265, 4210U, WDC Scorpio Blue WD10JPVX-75JC3T0

Lenovo G500s-59367693


HD Graphics (Ivy Bridge), 2020M, Seagate Momentus Thin ST500LT0 12-9WS142

Acer Aspire E1-572G-54204G50Mnkk


Radeon R7 M265, 4200U, Seagate Momentus Thin ST500LT0 12-9WS142

Asus X550LD-XX023H


GeForce 820M, 4200U, Toshiba MQ01ABF050

HP Compaq 15-a024sg


GeForce 820M, 3110M, HGST Travelstar 5K1000 HTS541010A9E680

HP Pavilion 15-n213eg


GeForce GT 740M, 4200U, Toshiba MQ01ABD100

MSI CX61-i572M


GeForce GT 720M, 4200M, WDC Scorpio Blue WD10JPVX-22JC3T0
Ruido
Ocioso

29.8 / 30.5 / 31 dB(A)

HDD

30 dB(A)

DVD

34.6 / dB(A)

Carga

33.6 / 36 dB(A)




30 dB
silencioso

40 dB(A)
audible

50 dB(A)
ruidosamente alto

min:

, med:

, max:

Voltcraft sl-320 (15 cm de distancia)
(-)
The average temperature for the upper side under maximal load is 39 °C / 102 F, compared to the average of 31 °C / 88 F for the devices in the class Multimedia.
(-)
The maximum temperature on the upper side is 45.1 °C / 113 F, compared to the average of 36.7 °C / 98 F, ranging from 21.1 to 71 °C for the class Multimedia.
(±)
The bottom heats up to a maximum of 42.7 °C / 109 F, compared to the average of 39 °C / 102 F
(+)
In idle usage, the average temperature for the upper side is 27.9 °C / 82 F, compared to the device average of 31 °C / 88 F.
(-)
The palmrests and touchpad can get very hot to the touch with a maximum of 42.3 °C / 108.1 F.
(-)
The average temperature of the palmrest area of similar devices was 28.9 °C / 84 F (-13.4 °C / -24.1 F).
Consumo de corriente
Off / Standby

0.1 / 0.2 Watt

Ocioso

2.6 / 5.5 / 10 Watt

Carga

24 / 58.2 Watt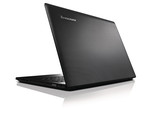 Alejaos, jugones habituales -- el Lenovo IdeaPad G50-70 no está hecho para vosotros. La Radeon R5 M230 es en gran parte responsable, ya que simplemente no proporciona potencia suficiente. La tarjeta gráfica solo es adecuada para aquellos que no están interesados en títulos 3D y prefieran juegos en el navegador o algún juego ocasional. Entonces, los clientes que no tengan intención de jugar a juegos 3D deberían fijarse más en el procesador que en la tarjeta gráfica. Tiene poco sentido, entonces, pagar más por la Radeon R5 M230 y aceptar los mayores consumos .
Hay ciertamente configuraciones más baratas del IdeaPad G50-70 - sin tarjeta gráfica dedicada, y ciertamente obtienes algo a cambio de su precio: una carcasa atractiva, por ejemplo -- sin una tapa de aluminio como el Dell Inspiron 15-5547, pero el plástico es denso y tiene una apariencia a aluminio pulido. El mantenimiento es sencillo, los módulos de red soportan los estándares habituales y tienen un rango de cobertura aceptable, y los dispositivos de entrada están razonablemente fabricados. Los altavoces son buenos y la duración de batería es lo suficientemente larga como para hacer que el portátil sea práctico.
El hecho de que Lenovo haya cambiado los puertos USB 3.0 del G500 por puertos USB 2.0 no es algo necesario y una pantalla con mejor precisión de color y no reflectiva no le habría ido mal al portátil. Es bueno que el sistema funcione tan silenciosamente pero bajo altos niveles de carga, las temperaturas hacen que la relación entre silencio y temperatura no merezca la pena.
Con todo, el Lenovo G50-70 que hemos analizado en nuestro laboratorio de pruebas, ha mostrado ser un dispositivo con muchas fortalezas y debilidades -- de las cuales las últimas se podrían haber evitado. En resumen: el esfuerzo de Lenovo para ahorrar costes es evidente. Con todo el Lenovo G50-70 tiene potencial para ser un ordenador disfrutable. Si simplemente estas buscando un portátil para las tareas cotidianas, el dispositivo ofrece una carcasa atractiva, rendimiento suficiente y unos dispositivos de entrada no excelentes pero si razonables.
Ésta es una versión acortada del análisis original. Puedes leer el análisis completo en inglés aquí.