Breve análisis del Dell Inspiron 15-5547
¿Minimalista y cautivador? ¿Te gustaría comprar un portátil multimedia asequible de diseño elegante y decentes capacidades de juego? En ese caso, Dell puede tener algo con su Inspiron 15-5547. Nuestro análisis mostrará qué niveles de calidad pueden lograrse realmente por menos de 600 euros.
PCMark 7 Score
3022 puntos
PCMark 8 Home Score Accelerated v2
3340 puntos
PCMark 8 Creative Score Accelerated v2
3499 puntos
PCMark 8 Work Score Accelerated v2
4411 puntos

ayuda
WDC Scorpio Blue WD10JPVX-75JC3T0
Sequential Read: 90.69MB/s
Sequential Write: 89.93MB/s
Access Time Write: 14.5ms
3DMark 11 Performance
1934 puntos
3DMark Ice Storm Standard Score
30674 puntos
3DMark Cloud Gate Standard Score
4013 puntos
3DMark Fire Strike Score
908 puntos

ayuda
Ruido
Ocioso

29 / 29 / 29 dB(A)

HDD

29.8 dB(A)

Carga

36.5 / 41.6 dB(A)




30 dB
silencioso

40 dB(A)
audible

50 dB(A)
ruidosamente alto

min:

, med:

, max:

Voltcraft sl-300 (15 cm de distancia)
(±)
The average temperature for the upper side under maximal load is 34 °C / 93 F, compared to the average of 30.9 °C / 88 F for the devices in the class Multimedia.
(±)
The maximum temperature on the upper side is 40.4 °C / 105 F, compared to the average of 36.5 °C / 98 F, ranging from 21.1 to 71 °C for the class Multimedia.
(-)
The bottom heats up to a maximum of 51.2 °C / 124 F, compared to the average of 38.8 °C / 102 F
(+)
In idle usage, the average temperature for the upper side is 25.7 °C / 78 F, compared to the device average of 30.9 °C / 88 F.
(+)
The palmrests and touchpad are cooler than skin temperature with a maximum of 30.8 °C / 87.4 F and are therefore cool to the touch.
(±)
The average temperature of the palmrest area of similar devices was 29.1 °C / 84.4 F (-1.7 °C / -3 F).
Consumo de corriente
Off / Standby

0 / 0.1 Watt

Ocioso

3.5 / 5 / 6.1 Watt

Carga

37.3 / 55.7 Watt




Clave: min:

, med:

, max:

Voltcraft VC 940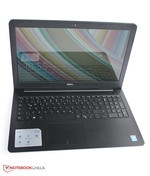 El Dell Inspiron 15-5547 es un dispositivo sólido, si bien algo carente de inspiración. El portátil multimedia básico-medio de Dell ha adelgazado y perdido peso sin perder la duración superior a la media de batería de su predecesor. El mantenimiento nuna ha sido más sencillo: Sólo hay que sacar dos tornillos para acceder a sus entrañas. El diseño es bonito (la tapa de aluminio pulido le da un aspecto de gama alta) y su calidad de construcción es decente - para su precio. La recepción de Wi-Fi es genial (como la mayoría de su conectividad) y los dispositivos de entrada son bastante usables.
La gráfica trae una limitación innecesaria: Dado que Dell emplea una interfaz de memoria de 64 bit en vez de una de 128 bit como la de la competencia, la GPU es mucho más lenta de lo que debería ser. Además, el portátil puede calentarse bastante (lo que debería mencionarse aunque pase rara vez). Los altavoces están como mucho en la media y ni hablemos de la deprimente precisión de color del display que dificulta discernir entre diferentes tonos.
Ninguna de estas debilidades es completamente imperdonable, y debería ser evidente que con ese precio no todo puede ser perfecto. Con todo, tras una priemra impresión tan buena como la del chasis de aspecto premium, problemas como la GPU "ralentizada", el display subpar y los mediocres altavoces no tendrían que haber sido necesarios.
Los que busquen un portátil delgado y elegante con buena duración de batería sin necesidad de una mula de carga de juegos pueden haber encontrado el dispositivo adecuado en el Dell Inspiron 15-5547. Los demás quizá quieran echar un vistazo a la competencia, ya que otros dispositivos ofrecen más rendimiento de juego por un precio parecido. El Acer Aspire E1-572G trae mejores altavoces, y el MSI CX61 tiene incluso un decente display Full HD mate.