OnePlus dice de sí mismo que sus fans son muy importantes para la compañía. El fabricante está en constante intercambio con la comunidad, y lo que se escuchó allí después del lanzamiento del OnePlus 8 y el OnePlus 8 Pro fue probablemente muy claro: El fabricante, que una vez se comprometió a molestar a los fabricantes establecidos y a sus costosos buques insignia con sus propios dispositivos superiores, mucho más baratos, se ha convertido ahora en una marca premium en sí misma, donde también se han fijado precios premium. Y, comprensiblemente, muchos fans de hace mucho tiempo no estaban muy contentos con esto.
El llamado a un dispositivo OnePlus barato que se remonta a las raíces del fabricante, por así decirlo, se hizo fuerte, y ahora OnePlus ha cumplido: No sólo se supone que el OnePlus Nord debe atraer la atención con su nombre particular, sino que también debe volver a ofrecer las mejores especificaciones a precios asequibles.
Nuestra primera impresión después de la apertura de la caja confirma definitivamente la alta calidad del OnePlus Nord: El smartphone está sólidamente fabricado y se adapta bien a la mano. El OnePlus Nord es un smartphone de tamaño medio, probablemente demasiado grande para manos pequeñas, pero tampoco un móvil gigante como el OnePlus 8 Pro.
Podemos confirmar la presencia de biseles delgados en la pantalla, así como la buena colocación de la cámara de doble orificio, que no atrae demasiada atención ni interrumpe cuando se utilizan imágenes de fondo inteligentes.
Hemos recibido la versión azul del smartphone, una versión más discreta en gris también está disponible en el lanzamiento.
Configuration
The OnePlus Nord's specs aren't bad for a device that you can get for under 400 Euros (~$463): A 90 Hz display, 5G, four cameras at the back and two at the front, fast-charging technology at up to 30 watts, and a lot of storage.
Specifically, the OnePlus Nord is available in the following storage configurations:
8 GB of RAM / 128 GB of storage: 399 Euros (~$462)

12 GB of RAM / 256 GB of storage: 499 Euros (~$578)

Are there also things that worry us at first sight? Well, the battery doesn't seem to be particularly powerful at 4,115 mAh, which could limit the smartphone's runtimes. The SoC isn't the absolute best but the Snapdragon 765G upper-class model instead. This should offer more than enough power for most apps, but the performance gap to more-expensive flagships should be noticeable.
There is no Wi-Fi 6, which could scare off fans of fast network connections. The display's 1080p resolution is surpassed by some more-expensive smartphones, but it's entirely sufficient for the screen size to render a sharp image.
But we are, of course, nitpicking here since the configuration is still very good for a smartphone in this price range.
Camera
Of the four camera lenses on the back, three can be used to take stand-alone photos: With 48 megapixels and pixel-binning, the main camera combines four pixels into one by default to produce 12-megapixel photos with a high light output. In addition, there's a wide-angle and a macro lens that has a very low resolution of 2 megapixels, though. The fourth lens is used to obtain depth information for portrait shots.
Our first impression of the camera is good: The photos taken with the main camera look colorful and sharp even in not-quite-optimal lighting conditions. The wide-angle camera takes decent pictures too, and due to the different levels of zoom provided by the lenses, there is quite some flexibility at the time of composing a photo. Since OnePlus wants to keep tuning the camera software until the time of release, we're not allowed to publish any sample photos until the final review is done.
There are also two cameras on the front: A normal and a wide-angle lens. You can only switch between them but not zoom. Pictures taken with these lenses quickly look overexposed in bright environments, but as already mentioned, OnePlus still has time to improve the camera.
Preliminary verdict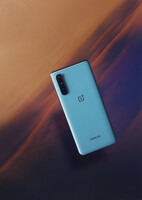 The OnePlus Nord is a device at a competitive price that looks high-quality at first glance and comes with a lot of features: Four cameras at the back, two at the front, a 90 Hz display, 5G, and also generous storage options. It inherits the smooth and modern operating system from its more-expensive siblings as well as the quick-charging technology.
The battery and processor have yet to prove to us in the test that they can keep up with the performance of actual high-end devices. In addition, there's no WiFi 6, which is a pity for now.
The OnePlus Nord offers a lot, but it also has to assert itself against tough competition. The review will definitely be exciting.

If the OnePlus One and its direct successors were still price breakers and had hardly any real competition, things look different today: Even the most established vendors have woken up and now offer cheaper alternatives with an interesting price-performance ratio. So it will be interesting to see how the OnePlus Nord performs in this new environment and whether it still deserves the title of price breaker.
We already have the test device here, but due to the embargo we can't publish our extensive review until next Monday.
Unboxing and hands-on video (English)